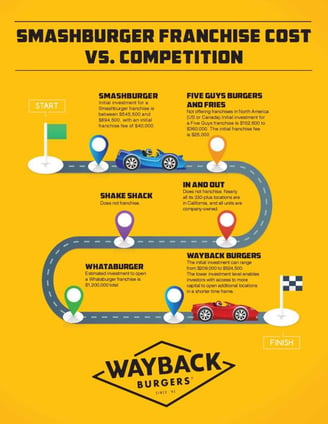 The Fast-Casual Burger Market
Entrepreneurs find it easy to understand the logic of entering the burger restaurant industry. The market size of the segment is $130 billion and is expected to grow by 0.6 percent in the United States in 2020. Looking beyond the end of the year, the fast casual restaurant market is estimated to reach $209.1 billion by 2027, according to Allied Market Research.
One of the brands that dots America's highways and byways is Smashburger. With around 400 locations across the nation, the Denver-founded burger brand is named for its technique of smashing its patties on a flattop grill at high heat. They use Angus beef for the burgers and also offer chicken and black-bean sandwiches, as well as fresh salads.
Smashburger Franchise Cost
According to FranchiseMall.com, the initial investment for a Smashburger franchise is between $545,500 and $894,500, with an initial smashburger franchise fee of $40,000. The brand's ongoing royalty fee ranges from 5 percent to 6 percent, and they charge an advertising fee of 2 percent. Smashburger offers multi-unit franchising agreements.
Comparing to Competitors
Smashburger certainly is an intriguing brand, but how does it shape up to its competitors in cost to open?
One competitor is fast-casual, burger-centric chain Five Guys, which has more than 1500 locations in 16 countries. Based in Virginia, the brand's menu focuses on hamburgers, hot dogs, and fries. Like the Smashburger franchise, its burgers are fresh and made to order. Unfortunately, they currently have no franchise opportunities available in the US or Canada.
And then there is Shake Shack, which is now serving burgers at more than 250 locations, since starting as a hot dog cart inside Madison Square Park in 2001. The company went public in 2014. However, if you want to open your own Shake Shack franchise, you are out of luck. According to this fast-casual brand's website, Shake Shack does not offer franchise opportunities.
Another competitor with plenty of buzz is In-N-Out Burger, a family-owned brand that has built a small fast-food empire based on a limited menu that hasn't changed much since its founding in 1948. The brand defines itself by its fresh, quality ingredients, and its reputation for excellent customer service. As is the case with Shake Shack, entrepreneurs cannot get in on the action. In-N-Out's President Lynsi Snyder says In-N-Out does not franchise. Nearly all its 330-plus locations are in California, and all units are company-owned.
A burger franchise you actually can open is the San Antonio-based Whataburger, which, as the name indicates, is famous for burgers; they also offer other sandwiches, salads, sides, and shakes. Whataburger recently opened up limited franchise opportunities to candidates interested in Alabama, Arizona, and Florida markets, but requires franchisees to commit to opening at least five locations in five years. The brand also stipulates that franchise candidates must have $5 million in liquid assets and a net worth of $12.5 million.
A Better Burger Franchise
A unique brand in the "better burger" category, Wayback Burgers, is a delicious alternative to Smashburger or any of its top competitors. As an affordable, higher-quality burger franchise, Wayback is in the fast-casual sector, combining the quick service of fast food with the elevated menu and dining atmosphere of a casual restaurant.
The initial investment to open a Wayback Burgers location is between $209,000 and $524,500, coming in lower than the cost to open a Smashburger franchise, making it attractive to entrepreneurs looking for the opportunity to start their own fast-casual burger franchise for well under $1 million. This is a great prospect to break into the burger franchise industry.
For more information on how to get started visit https://waybackburgers.com/franchising/.